How a family name became a brand name representing quality and trust…
The Inglis name has a proud heritage in Canada. In 1859, armed with metalworking and pattern-making skills learned in England and Scotland, John Inglis moved to Guelph, Ontario and started Mair, Inglis and Evatt which built machinery for grist and flour mills.
In 1881, operating under the name John Inglis and Sons, the company moved to facilities on Strachan Avenue in Toronto. But in 1898, with the enterprise growing madly, John Inglis died. William, one of John's five sons, assumed leadership of the business. In 1902, he led the company into the manufacture of marine steam engines and waterworks pumping engines, and he discontinued production of its previous product line.
When William Inglis died in 1935, the new Toronto Island Ferry was named after him in appreciation of his significant contribution to the city's industrial and cultural progress.
Two years later, an American named Major J.E. Hahn, purchased the company and made significant changes to its operations. Under Major Hahn's leadership, the company assisted in the World War II effort by manufacturing guns for the Canadian and British governments. More than 17,800 people were employed at this time creating the need for expansion at the Strachan Avenue plant.
When the war ended in 1946, the company began to manufacture consumer products for the first time. Fishing tackle, house trailers, oil burner pumps and domestic heaters and stoves were among the diverse products offered.
In the same year, John Inglis Co. Limited negotiated with Nineteen Hundred Corporation (later Whirlpool Corporation) to manufacture home laundry products. The wringer washer was introduced in 1946, and in 1950, production of the automatic washer was added. The line of appliances expanded quickly to include electric and gas dryers, and dishwashers.
By 1966, Inglis had become the leading producer of domestic laundry appliances in Canada. In 1967, a refrigerator plant was opened in Stoney Creek, Ontario near Hamilton and production of dehumidifiers was added there in 1970.
In 1972, Inglis produced its one-millionth automatic washer and began manufacturing and selling appliances under the Whirlpool brand name. A year later the company began operating under the name, Inglis Limited. During the late 1970s, Inglis Limited continued to grow by building a new warehouse and sales and service facility in Laval, Quebec; expanding its automatic washer manufacturing facility in Toronto; and producing compact washers.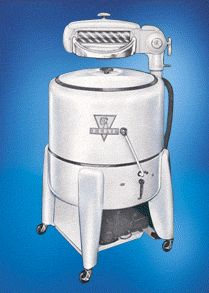 The home appliances industry experienced significant change through the 1980s and 1990s. To remain a strong competitor, Inglis Limited made operational changes and expanded its product line. In 1981, the company moved its head office from Toronto to Mississauga, Ontario. One year later it acquired certain assets of Canadian Admiral Corporation, Ltd. (including plants in Mississauga and Cambridge, Ontario, and Montmagny, Quebec), and began manufacturing and selling under the brand name Admiral. In the same year, Inglis began construction of a 100,000 square foot national parts and distribution centre and service administration building in Mississauga.
In 1987, Whirlpool Corporation increased its ownership in Inglis Limited to 71.6 percent. Soon after several new products were introduced including microwave ovens and a new line of dishwashers and energy-efficient refrigerators.
Inglis Limited officially changed its name to Whirlpool Canada in 2001. Despite this, the company remained as committed as ever to offer its Inglis® appliances to practical people looking for a well-known brand they could trust. We are proud of the unique reputation that Inglis® Home Appliances enjoys today and are dedicated to providing hard working and long lasting products for years to come.